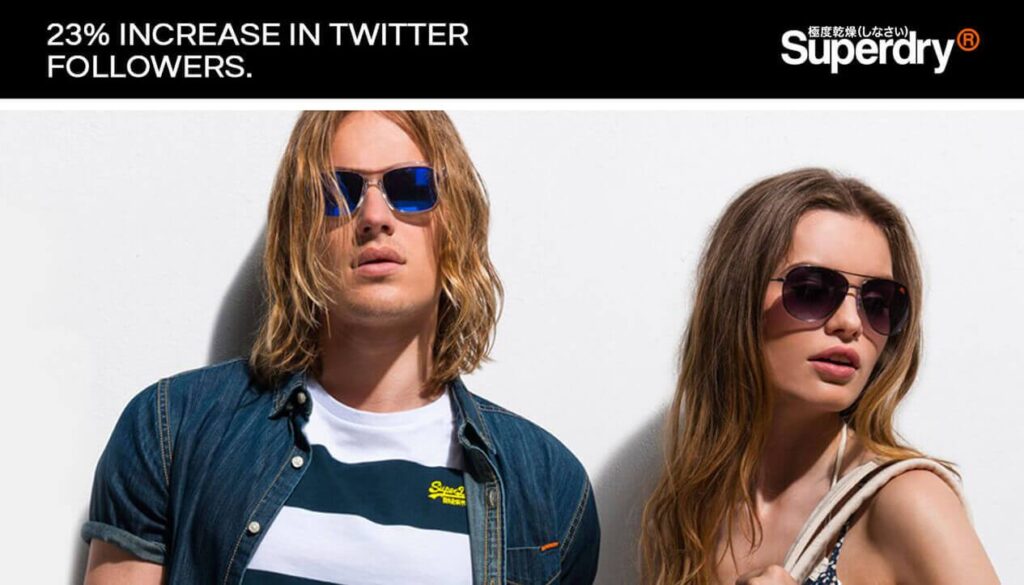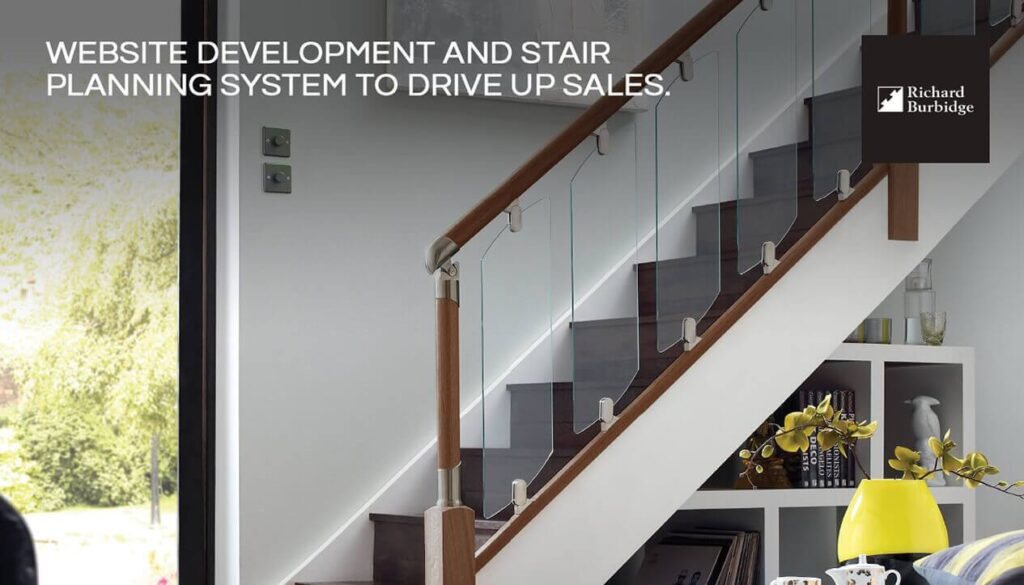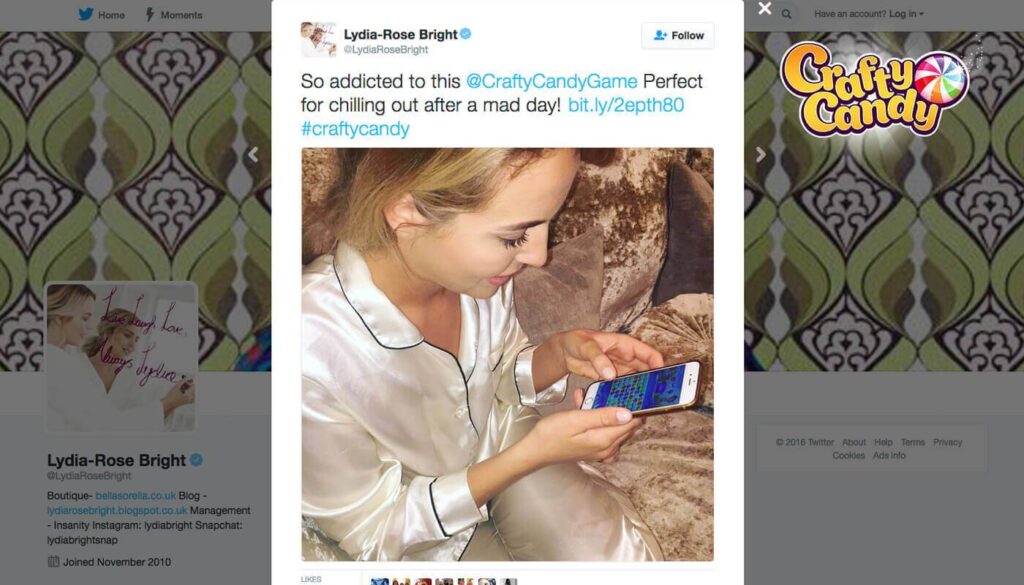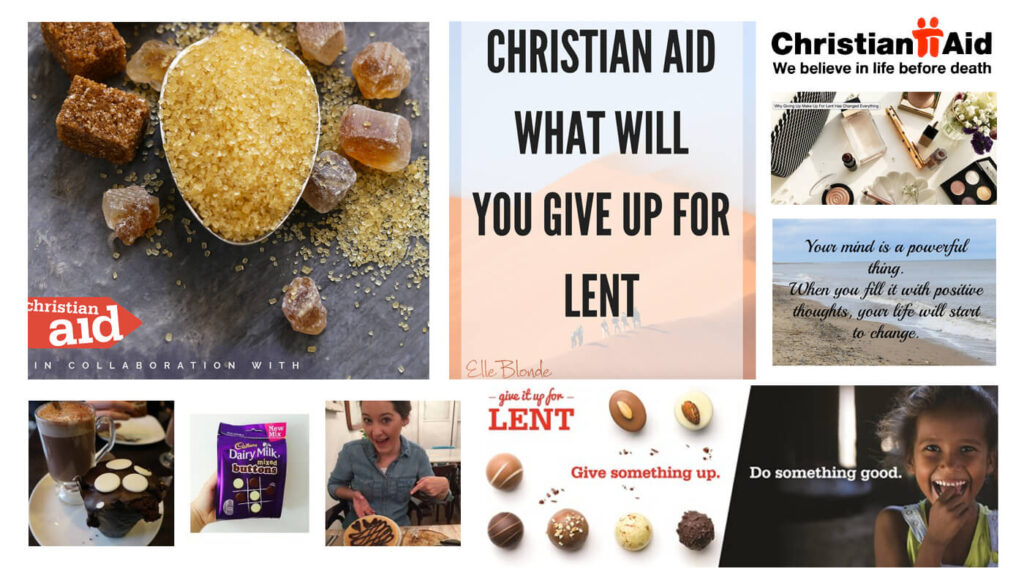 Our work spans social media marketing and editorial content, influencer marketing, celebrity endorsements, web design and build, live events and online PR. With a client base across the world, we have great international networks we can draw up for worldwide, national or hyperlocal campaigns.
Whether you are looking to launch a brand new product into the market with great fanfare, or you're looking for new ways of reaching your consumers through the latest marketing techniques, we can help. Get in touch with us to find out more.
INTRODUCTION
We are a multi-award winning digital marketing agency that has worked with some of the world's best-loved brands. From large-scale responsive web design projects and smartphone app development, to advertising and comprehensive marketing solutions – we've got it all covered.
Our clients rely on our strategic and creative thinking to help them achieve business objectives. Whether creating hype for new products, building customer loyalty,
or driving sales through innovative design and build, our hands-on team has the experience and passion to tailor a plan that meets your specific requirements. Beyond web build, BRAVE BEAR also specialise in PR, Search Engine Optimisation, Google AdwordsPPC, social media marketing, direct mail and point-of-sale activity.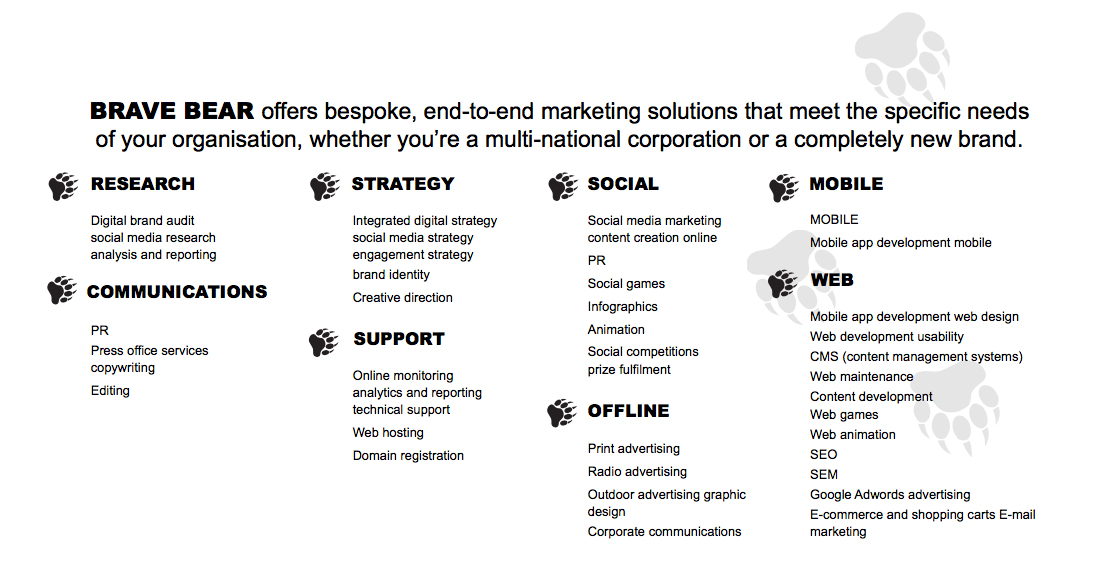 BINATONE
BRAVE BEAR was retained to lead the launch marketing for The Brick retro mobile phone across Europe.
This remit extended from experiential marketing both to consumers at live events and to the trade at international trade fairs such as IFA in Berlin, through to social media communications, trade and consumer public relations and point of sale activity
PR coverage has been achieved in titles such as Cnet, Engadget and the Indian Economic Times as well as TV coverage on German TV's N24 and The Gadget Show in the UK. During IFA, a considerable amount of user generated content and social media conversation was achieved through a photo booth concept and live created by BRAVE BEAR which did meet and greets on the showfloor.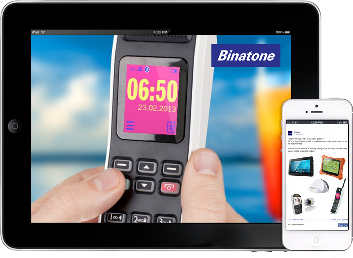 To promote The Brick as a Christmas gift, our live events team – enthusiastically assisted by the Brick mascot! – travelled to Oxford Street for the Christmas lights switch-on. During this time we held giveaways involving users sharing social media content from the event.
As a result of our activities promoting The Brick, Binatone subsequently engaged us to work on many of their other brands including baby monitors, home telephones and tablet devices.
CHRISTIAN AID
Christian Aid is a large UK registered charity, with a mission to bring an end to poverty around the world. Christian Aid approached BRAVE BEAR with a brief to raise awareness for the charity as well as generating donations and participation through a 'Give it up for Lent' campaign
using Influencer Marketing.
Since signing with BRAVE BEAR, Christian Aid's 'Give it up for Lent campaign' has reached over 1 million people!
Our campaign followed a number of bloggers as they gave up various things for Lent – chocolate, caffeine, alcohol, even negativity! We used a range of female bloggers in diverse areas, from mummy bloggers to beauty, fashion, health and lifestyle content creators.
These bloggers had combined total reach of over 1 million! 464K of this were monthly unique visitors to their blogs and 577K from social shares.
We used multiple touchpoints to tell authentic stories to each of our bloggers' audiences before, during and after Lent. This generated considerable awareness, brand mentions with positive sentiment, participation in the
Give It Up for Lent programme and, of course, donations.

Some of our activities include:
Sourcing high-traffic bloggers from a range of genres
Contract negotiations and service delivery agreements with the selected influencers
Creation of a media pack for influencers to use to optimise their content and ensure it was on message throughout
Campaign monitoring 
Campaign reporting
​
COOKING FEVER
BRAVE BEAR helped Cooking Fever, a popular mobile game that now has over 80m players worldwide.
With an audience that is primarily Generation Z, social media is the main marketing and customer care channel for the brand and BRAVE BEAR manages all proactive and responsive communications to their audience of nearly 2M social media fans.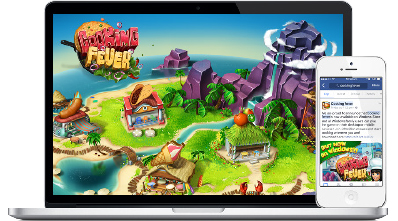 Some of our activities include:
Writing and deploying all editorial content across Facebook, Twitter & Instagram
24/7 responsive communications & customer care
Managing weekly competitions and fulfilment
Amplifying celebrity endorsements (from the likes of Khloe Kardashian & Vicky Pattison)
Blogger outreach and Public Relations
Every week, Cooking Fever's social media fanbase continues to grow by at least 4,000 fans.
DIAMOND QUARTER

The Jewellery Quarter has been famous for many years as the place to go when looking for that perfect item of jewellery. Our client spotted an opportunity when the area was undergoing redevelopment. Diamond Quarter managed to acquire a very prominent piece of real estate in the Jewellery Quarter.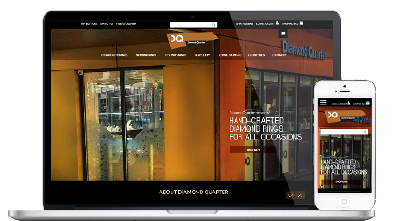 The opportunity was simple, instead of creating jewellery and offering it for sale to members of the general public, why not invite them into an exclusive setting where they can design and even select the diamonds that are used in their jewellery.
FIRETREE

Firetree is a London based luxury chocolate 'bean-to-bar' manufacturer. They had no social media accounts set up when they approached us, and we have since launched successful online profiles across Facebook and Instagram. In under two months we have gained them a following of over 330 people, and consistently average over 25% engagement.
We have utilised both the Facebook and Instagram story features and established story highlights in order to increase follow conversions from page traffic.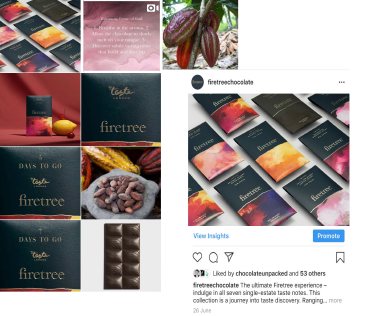 We created promotional material in the run up to Firetree's appearance
at the Taste of London Event in Hyde Park, where they achieved high footfall and all tasting workshops they ran were fully booked. Following this event – and other high profile occasions where the product featured – we ensured we tracked mentions, relevant hashtags and event related materiel to source any positive reviews and interactions by influencers and utilized these posts for page stories to further enhance the brands reputation.
We also run successful paid ad campaigns across both these platforms.
FOREVER LIVING PRODUCTS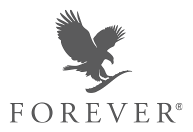 We were tasked with creating a Facebook Application for Forever Living called Faces of Forever, to document and share Forever Living's members' personal accomplishments and help to inspire those around them.
Creating apps that offer magazine-style interfaces with editorial content and social selling can be a highly effective way of increasing social media engagement and audience retention. Smart content management behind-the-scenes allowed Forever Living to make sure their stories and videos were up to the moment and relevant for their viewers.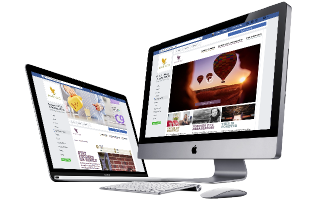 "At Forever Living, we have used BRAVE BEAR for several years. Our latest projectwith BRAVE BEAR was to create a Facebook application showcasing our Success Stories called Faces of Forever (facesofforever. com). The page gives real insight into the diverse makeup of Forever.
During the weekend launch of the site, we had over 10,000 page views and hadsome great feedback when the app was launched at one of our events. BRAVE BEAR were great at working to a tight deadline to create the application on time and ready for the event.
I would highly recommend using BRAVE BEAR and can't wait to work with them on future projects."
Digital Marketing Team Leader – Forever Living
PIRELLI

The Pirelli Silverstone giveaway was a simple promotion run on Pirelli's Facebook page, where 5 people could win a pair of Formula 1 weekend tickets to the 50th Grand Prix at Silverstone. To enter, you had to be a Pirelli Facebook fan and answer a simple question about a Formula 1 tyre, which is fitting as Pirelli is the official F1 tyre supplier:
More than 3,300 entries were received
The post reached almost half a million Facebook users n Fan engagement for the particular post was at 41%
The Pirelli MINI Challenge Competition was managed within a Facebook
app on the Pirelli page. It required more effort from participants and targeted
a specific group: hardcore racing fans. The prize was a chance to race in the MINI Challenge at the Brands Hatch GP. To qualify, Pirelli Facebook fans had to explain why they deserved to win and submit photos to support their reason:
More than 400 participants entered the competition
Almost 1,500 entries were received
One of the posts reached almost 2 million Facebook users
Another post received over 120,000 clicks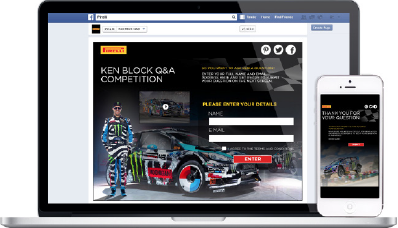 Both competitions were supported by Facebook advertising, mainly promoted posts aimed at increasing engagement.
POST-COMPETITION REWARDS
Concerned that fans will leave after your promotion ends? Contrary to popular belief that 'compers' only care about prizes, our survey report on Influencing Consumers Through Competitions, actually found that more than 80% of people who enter competitions still share content from a brand on social media afterwards.
Both engagement and the number of Pirelli Facebook fans are still growing steadily. Plus we now have a larger audience of motorsport fans who are more likely to interact with the content we create for Pirelli.
Richard Burbidge
BRAVE BEAR was selected from a 6 way comparative pitch to design and build the new website for Richard Burbidge, the UK's leading supplier of stair parts, decking and moldings.
Since then BRAVE BEAR has been appointed as Archwood Ltd's digital partner for the entire group, managing and maintaining their Search Engine Optimisation and Google Adwords"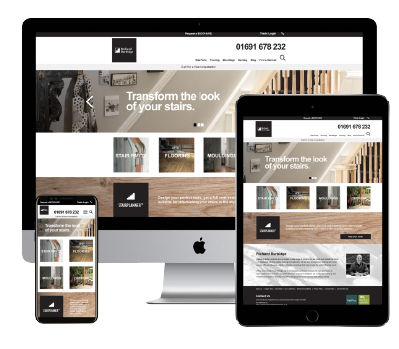 SUPERDRY

Following on from this, we were tasked to manage their Twitter account and support Superdry in their annual "Student Event Campaign". By attending events and press days, we were able to provide followers with an insider's glimpse into the Superdry brand and create Brand Ambassadors online. Furthermore, we
ran paid Twitter ads targeted to their desired demographic and got their Twitter account verified.
This Twitter campaign resulted in a 23% increase in followers within the first 7 weeks of pro-active communications.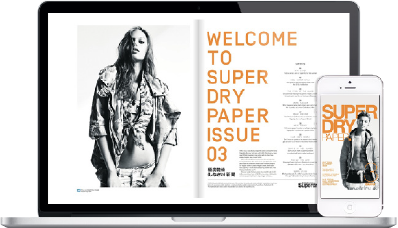 We also developed a Facebook app targeted towards aspiring DJs. Centered around Superdry's sponsorship of the Snowbombing festival in Austria, users were offered the chance to submit their own mix-tape for the opportunity to perform a live DJ set at the festival. Alternatively, users can log on to listen to the music and enter a competition to win Superdry Snow Gear. The app includes a Like gate to boost the fanbase whilst also having many share features to ensure viral reach is maximised.
We've also done a number of media buying campaigns on YouTube for promotional videos, spanning pre-roll, YouTube search and Google Display Network channels.
SMALL SMART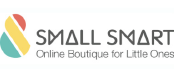 Small Smart are a UK based children'sretailer specialising in modern nursery decor, furniture and baby clothing.
We create high quality content for their social media accounts – from graphics, day-to-day posts and paid advertisement.
We have successfully gained 800+ followers on Instagram.
Our quality social posts resulted in a 50% increase in page views on Facebook in the space of just four weeks, and this KPI has continued to rise steadily.
We increased Facebook and Instagram post reach through use of a strategic '#FreebieFriday' campaign, which resulted in a 9713% increase in this RPI: all unique views.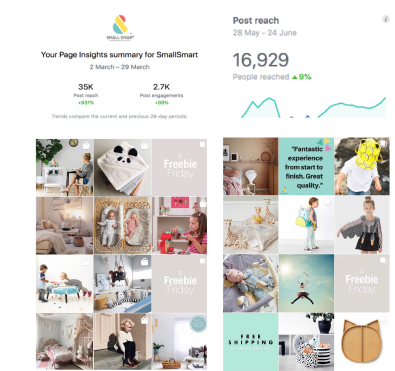 We analysed users engaging with the Small Smart page, looking at geographic and demographic factors. Through this close analysis we have been able to target more effectively and send more infirmed communications to suit the audience needs; thereby increasing engagement KPI by 2374%.
We have utilised influencer marketing to widen the reach of posts, build positive reputation through association and increase brand awareness. We strategically utilise gifting strategies in order to gain maximum exposure for minimum costs to the client.
We have produced graphics to accompany campaigns such as #FreebieFriday, reviews etc and captured high quality product focused photos for Facebook and Instagram stories.
To discuss how Brave Bear marketing can help your business to thrive and grow, please don't hesitate to get in touch for a non-committal chat with our friendly team.