Brave Bear is a fully integrated digital marketing agency, offering bespoke marketing, design, and advertising packages tailored to your business' requirements.
We don't mean to brag, but we can do it all… Overall web design & build, creating a comprehensive SEO strategy to supporting with technical SEO fixes, building or making your PPC campaigns more effective, applying conversion rate optimisation (CEO), or just your bread and butter content creation – we know our stuff.
Our team has over 25 years of experience in digital marketing practices, and our heritage in mixed media goes back further than we can BEAR to admit! We are fully qualified in all things digital and ready to build a strategy and tactic to take your business forward.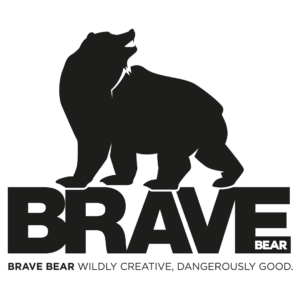 Whether you have complex web build aspirations and require a detailed marketing plan, want to build your brand from scratch, or simply require a marketing strategy for an established brand, Brave Bear has you covered.
We can BEARLY wait to utilise our hard-earned knowledge of the digital marketing sphere to really make your business the best it can be.
Between them our team has amassed over 50 years' experience in advertising, design, web build and digital agency environments. They have opened eyes, won awards and become caffeine addicts in the process!
They love being creative. They love design. They love digital. It doesn't matter if a project is big or small, they will bring a healthy dose of this passion; treating all ventures with the same care and attention to detail required to provide solutions that engage, add value to your business and deliver your company's product to the digital marketplace.

Creating sharp, modern designs, image editing, website building, creating wireframes to optimise layout all fall within their forte. Computer and coding whizzes, they also identify user and system requirements for new websites and applications, manage change requests, and overall guarantee quality of delivery to ensure your website looks incredible – whether you're starting from scratch or just want a refresh.

For fresh & contemporary designs, this grizzly team are the ones to go to.
These bears know their stuff when it comes to optimising a website and increasing its ranking potential. SEO is the process by which domain authority, on-page content, and backlink building is elevated in order to list your website as highly as possible - therefore becoming as visible as possible on search engine results. Their penmanship is second to none; turning your content into gold and getting your rating sky high! Google Adwords qualified to the most advanced level - they can optimise your keywords to get people clicking. Check out our SEO and PPC page to get a deeper insight into this team's role.

You'll go wild for this team's talent for strategic planning and comprehensive implementation.
Our Social Media Marketing team uses their sharp wordsmith skills to keep your online presence current, informative, and responsive with regular updates of entertaining content. The cultivation and engagement of organically attained relationships with a healthy following on social media is essential to the growth of a brand. Our team works to tailor a strategy and posting schedule in order to help your business tackle its goals with a sense of purpose, achieving measurable results. For someone to look after all your paid social media campaigns and ensure a cohesive marketing message for your business across all paid, organic and web media, you'll love this bunch of Koal-ity copywriters.