23% increase in followers within the first 7 weeks of pro-active communications.
We began working with Superdry when we were tasked to create an online, digital version of their quarterly in-store newspaper.
We recommended a stylised magazine app that provided readers with a similar experience to viewing a newspaper, which was placed on their Facebook page. This is now updated on a seasonal basis to ensure their digital marketing reflects offline efforts.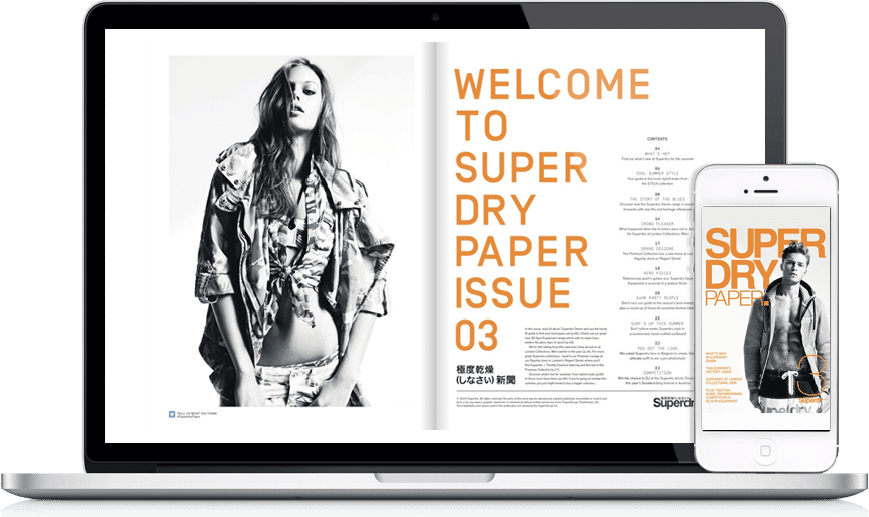 Following on from this, we were tasked to manage their Twitter account and support Superdry in their annual "Student Event Campaign". By attending events and press days, we were able to provide followers with an insider's glimpse into the Superdry brand and create Brand Ambassadors online. Furthermore, we ran paid Twitter ads targeted to their desired demographic and got their Twitter account verified.
This Twitter campaign resulted in a 23% increase in followers within the first 7 weeks of pro-active communications.
In March 2014, we developed a Facebook app targeted towards aspiring DJs. Centered around Superdry's sponsorship of the Snowbombing festival in Austria, users were offered the chance to submit their own mix-tape for the opportunity to perform a live DJ set at the festival. Alternatively, users can log on to listen to the music and enter a competition to win Superdry Snow Gear. The app includes a Like gate to boost the fanbase whilst also having many share features to ensure viral reach is maximised.
We've also done a number of media buying campaigns on YouTube for promotional videos, spanning pre-roll, YouTube search and Google Display Network channels.
To discuss how Brave Bear marketing can help your business to thrive and grow, please don't hesitate to get in touch for a non-committal chat with our friendly team.