Small Smart are a UK based children'sretailer specialising in modern nursery decor, furniture and baby clothing.
We create high quality content for their social media accounts – from graphics, day-to-day posts and paid advertisement.
We have successfully gained 800+ followers on Instagram.
Our quality social posts resulted in a 50% increase in page views on Facebook in the space of just four weeks, and this KPI has continued to rise steadily.
We increased Facebook and Instagram post reach through use of a strategic '#FreebieFriday' campaign, which resulted in a 9713% increase in this RPI: all unique views.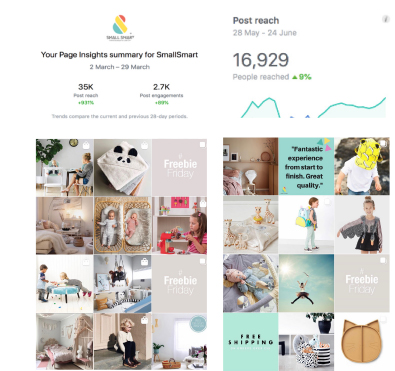 We analysed users engaging with the Small Smart page, looking at geographic and demographic factors. Through this close analysis we have been able to target more effectively and send more infirmed communications to suit the audience needs; thereby increasing engagement KPI by 2374%.
We have utilised influencer marketing to widen the reach of posts, build positive reputation through association and increase brand awareness. We strategically utilise gifting strategies in order to gain maximum exposure for minimum costs to the client.
We have produced graphics to accompany campaigns such as #FreebieFriday, reviews etc and captured high quality product focused photos for Facebook and Instagram stories.
To discuss how Brave Bear marketing can help your business to thrive and grow, please don't hesitate to get in touch for a non-committal chat with our friendly team.