we helped Pirelli reach one million fans organically.
Pirelli appointed Brave Bear to handle its social media communications on Facebook after a 6-way pitch and they've kept our team on a retained contract ever since.
We've handled customer service issues, increased engagement levels and handled sales enquiries as well as demonstrating our ability to perform in crisis management scenarios.
Since employing Brave Bear as their social partner, Pirelli has reached 1.3M fans organically.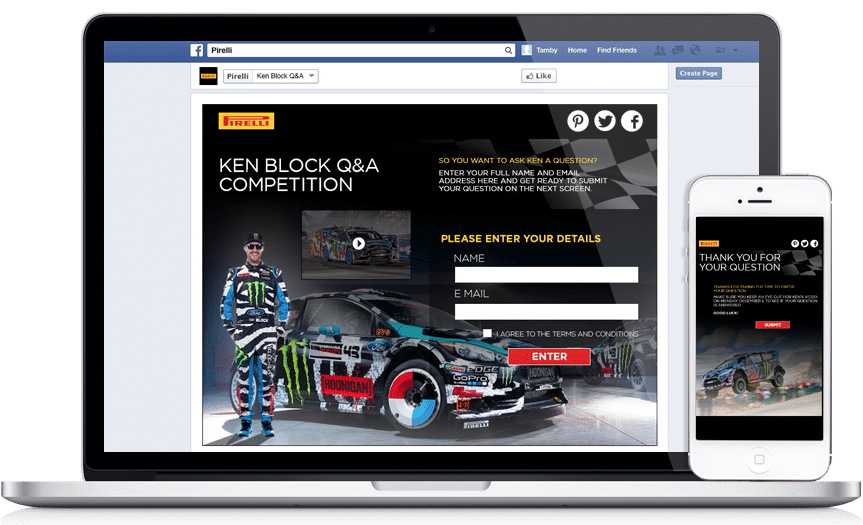 The Pirelli Silverstone giveaway was a simple promotion run on Pirelli's Facebook page, where 5 people could win a pair of Formula 1 weekend tickets to the 50th Grand Prix at Silverstone. To enter, you had to be a Pirelli Facebook fan and answer a simple question about a Formula 1 tyre, which is fitting as Pirelli is the official F1 tyre supplier:
More than 3,300 entries were received
The post reached almost half a million Facebook users
Fan engagement for the particular post was at 41
The Pirelli MINI Challenge Competition was managed within a Facebook app on the Pirelli page. It required more effort from participants and targeted a specific group: hardcore racing fans. The prize was a chance to race in the MINI Challenge at the Brands Hatch GP. To qualify, Pirelli Facebook fans had to explain why they deserved to win and submit photos to support their reason:
More than 400 participants entered the competition
Almost 1,500 entries were received
One of the posts reached almost 2 million Facebook users
Another post received over 120,000 clicks
Both competitions were supported by Facebook advertising, mainly promoted posts aimed at increasing engagement.
Concerned that fans will leave after your promotion ends? Contrary to popular belief that 'compers' only care about prizes, our survey report on Influencing Consumers Through Competitions, actually found that more than 80% of people who enter competitions still share content from a brand on social media afterwards.
Both engagement and the number of Pirelli Facebook fans are still growing steadily. Plus we now have a larger audience of motorsport fans who are more likely to interact with the content we create for Pirelli.
To discuss how Brave Bear marketing can help your business to thrive and grow, please don't hesitate to get in touch for a non-committal chat with our friendly team.