Firetree is a London based luxury chocolate 'bean-to-bar' manufacturer.
They had no social media accounts set up when they approached us, and we have since launched successful online profiles across Facebook and Instagram. In under two months we have gained them a following of over 330 people, and consistently average over 25% engagement.
We have utilised both the Facebook and Instagram story features and established story highlights in order to increase follow conversions from page traffic.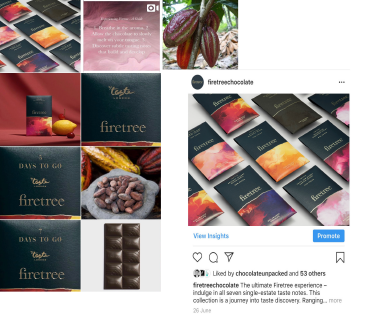 We created promotional material in the run up to Firetree's appearance
at the Taste of London Event in Hyde Park, where they achieved high footfall and all tasting workshops they ran were fully booked. Following this event – and other high profile occasions where the product featured – we ensured we tracked mentions, relevant hashtags and event related materiel to source any positive reviews and interactions by influencers and utilized these posts for page stories to further enhance the brands reputation.
We also run successful paid ad campaigns across both these platforms.
To discuss how Brave Bear marketing can help your business to thrive and grow, please don't hesitate to get in touch for a non-committal chat with our friendly team.